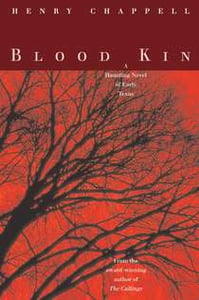 $

25.00
Texas Tech Univerity Press (2004)
ISBN 0-89672-530-8 (hardcover)
"Chappell's novel reads the way a John Ford western unfolds on the screen: good folks, hard choices, humor, tragedy, and heartbreaking humanity played out against the backdrop of the great American West. A wonderful book for readers who like westerns that leave formula in the dust."
•Booklist starred review
Isaac Webb, a young Texas ranger, struggles for decency amid the violence of the Texas Revolution and the early days of the Republic. Still in his teens when he joins Captain Noah Smithwick, Isaac discovers in himself extraordinary mettle in battle and a fierce yearning for young war widow Catherine Druin.
But victory over Mexico brings neither the new Republic nor Isaac the peace and stability he fought for. Escalating Indian depredations forestall Isaac's hopes to work the farmland he's cleared near Bastrop and to marry Catherine. Ordered by Sam Houston to accompany Smithwick on a mission of peace, Isaac befriends Looks Far, a young Comanche warrior at whose side he fends off Waco attacks and with whom he learns to grieve.
As the Texans' hunger for land and the Comanches' penchant for raiding imperil Isaac's friendship and thwart peace negotiations, Isaac returns to Bastrop prepared for the worst. But when his future with Catherine is further confounded by her father's blind hatred of the Comanches, and his own commitment to the indomitable Inez, a Lipan captive, Isaac must also confront a brutal dilemma and a painful secret.
Signed by the author