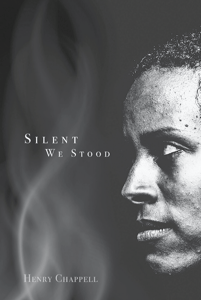 $

25.00
Texas Tech University Press (2013)
ISBN 978-0-89672-833-2 (Hardcover)
"This is a well-wrought novel, filled with suspense, pathos, and human drama."
•Kathryn M. Lang, writer and editor
Dallas, Texas, 1860. Secession and the Civil War loom. Fear of slave rebellion grips North Texas.
On July 8, the town burns. Hysteria reigns. City leaders sentence three slaves to death by hanging.
Historians have long attributed the tragedy to spontaneous combustion and secessionist paranoia. Could there be more to the story?
In Silent We Stood, Henry Chappell, award-winning author of The Callings and Blood Kin, weaves the tale of a small band of abolitionists working in secrecy within Dallas's close-knit society. The unforgettable characters reflect the complexity of life in Antebellum Texas:
Joseph Shaw, a carpenter and veteran abolitionist , whose love for his best friend's wife threatens the group's cohesion.
Ignatious Bodeker, a charismatic, melancholic preacher, the movement's spiritual center.
Rachel Bodeker, an implacable abolitionist whose affair with Joseph compromises the group's moral bonds.
Rebeka, the indomitable slave who'll risk everything for the man who stole her away from an Alabama plantation.
Samuel Smith, a freedman who questions his own resolve and longs for Rebeka.
Ultimately, violence tests the limits of love and loyalty – and, for some, opens a path to redemption.
Signed by the author