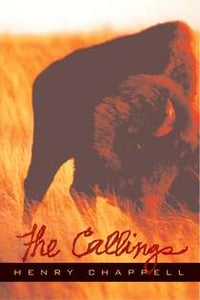 $

12.00 - On Sale
Texas Tech Univerity Press (2002)
ISBN 0-89672-494-8 (hardcover)
"Vivid, realistic, and brutal."
•Elmer Kelton
The South Plains, 1873. Bison herds are dwindling on the Kansas prairie. Logan Fletcher, a young faith healer from Kentucky labors as a skinner on a buffalo hunting crew, waiting for the taming of the plains and the chance to spread the Word to the coming immigrants.
On the reservation near Fort Sill, the U.S. government withholds food in retaliation for Comanche and Kiowa depredation in Texas. Cuts Something, an aging Comanche war chief, returns to his old home on the Pease River to revive his badger medicine. His quest is rewarded, and he leads his demoralized band back to the bison-rich Texas Panhandle.
Logan's crew abandons the Kansas bone field and heads into the Panhandle, where the brutal plains life erodes his idealism and raises questions he is ill prepared to answer.
The inevitable confrontation of two men – each from an arrogant, expansionist culture – draws in an assortment of characters cast of the harsh land itself and just as gripping: Bob Durham, the former slave, whose skill as a plainsman saves Logan's crew time and again; Ezra Higginbotham, the hunter whose determination to exploit the last of the southern bison herd imperils everyone around him; Elizabeth Keltner, the young woman who survives cholera and capture by Kiowas, then gives Logan reason to live; and Abraham, the giant Tonkawa scout who eats the flesh of his dead enemies and endures unspeakable torture to lead the army to Cuts Something's band.
The final clash tests the depths of Cuts Something's resolve and compels Logan to confront the racism, brutality, and moral paradox of the American frontier in all its complexities.
Signed by the author